Get to know the world of the olive and the bee!
The tour and tasting takes place inside an old stone oil mill that we acquired from our ancestors, turning it into a fully modernized oil mill with the latest technology cold pressing olive fruit machines, our facilities are equipped with a modern honey standardization line, specially designed to not the nutrients of the final product are altered.
The journey begins with a visit to our olive groves, and is taken inside the olive mill area, where a detailed explanation of the process of pressing the olive tree to the extra virgin olive oil is given.
Then follows the presentation of the cell with an analysis of how it works. Your tasting journey ends outside the olive mill by tasting all our products in our specially designed area overlooking the mountain plain.
Try and enjoy the 8 different varieties of honey (blossom, orange blossom, thyme and other herbs, thyme, heather, carob, pine and comfrey) of the Papagiannakis family and the extra virgin olive oil from its own olive groves.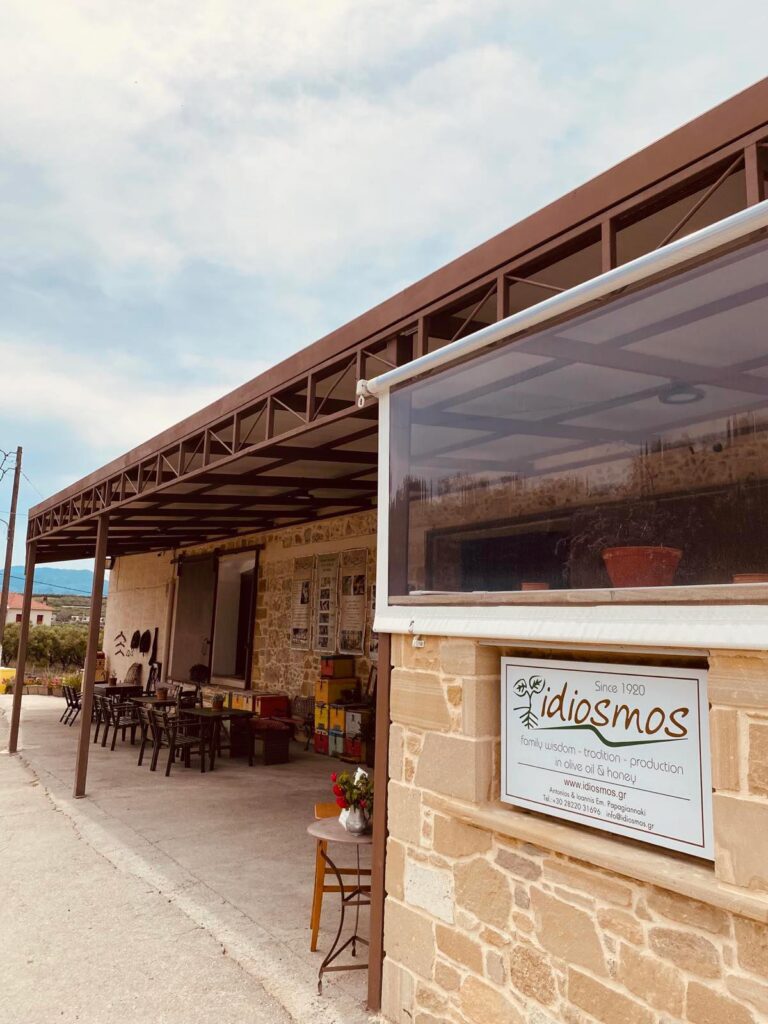 Simple Tasting
The simple tasting consists of all varieties of honey, extra virgin olive oil and olives, accompanied by nuts and breadcrumbs.
FREE
Tour & Tasting
The tour & tasting consists of a tour of the production areas, the olive groves located there, a detailed explanation of the extra virgin olive oil and honey production process and a tasting of the 8 varieties of honey and extra virgin olive oil, accompanied by a treat, which contains nuts , breadcrumbs, tomatoes, salted olives, Cretan graviera, pollen, honeycomb and tsikoudia.
Duration: 30 – 45 minutes
Hours: Monday to Sunday : 9:00 – 20:00 (by appointment)
HAPPY HOUR: 17:00 – 20:00 with 50% discount (to guided tour and tasting)
Location: Pervolakia Kissamos Chania Crete Find us on the map
Cost: 15 euros per person
*for children under 15 is free
*For groups of more than 5 people the price changes